Full Information about Dental Admission Circular in Bangladesh
If you want to get the latest Dental Admission Circular 2021-22, you have to read this full article. So keep reading on.
Every Year Directorate General of Health Services (DGHS) publishes the circular of Dental admission. This circular is published on their official website www.dghs.gov.bd and dghs.teletalk.com.bd. BDNiyog also publishes circular images and pdf of circular.
Dental admission is one of the popular examinations of newly passed HSC candidates. Every year millions of students attend this examination. It is very important for them to collect the Dental admission circular 2021-22.
Dental Admission Circular 2021-22
Dental Admission is a very important examination in our country. After passing the HSC exam, students are applying for this seat. According to the decision of the authority, every year students are fighting for more than 545+ Seats (Including govt, non-govt Dental, and dental colleges).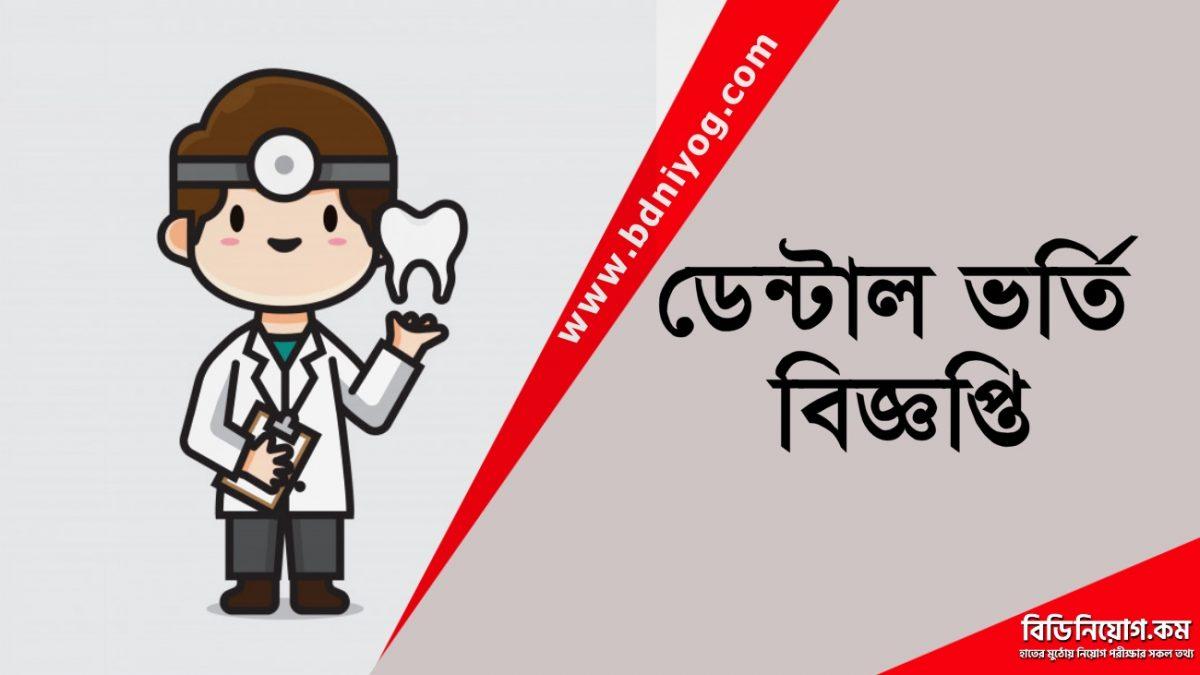 Admission Important Dates at a glance
দেশের সরকারি-বেসরকারি ডেন্টাল কলেজ ও ডেন্টাল ইউনিটে ২০২১-২২ শিক্ষাবর্ষে ভর্তির বিজ্ঞপ্তি প্রকাশ করেছে স্বাস্থ্য শিক্ষা অধিদপ্তর। আগামী ২০ মার্চ থেকে ভর্তি আবেদন শুরু হবে। আবেদন করা যাবে ৩০ মার্চ রাত ১১টা ৫৯ মিনিট পর্যন্ত।
Now, we talk about all the important information about the admission test below.
| | |
| --- | --- |
| Application Start Date | 20 March 2022 |
| Application Deadline | 30 March 2022 |
| Admission Test Date | 22 April 2021 |
| Admission Fee | 1000 BDT |
| Apply Website | dghs.teletalk.com.bd |
Dental Admission Mark Distribution 2021-22
In recent news Ministry of DGHS announces,
| | |
| --- | --- |
| Total Number of Examination | 300 |
| SSC and HSC Number | 200 |
| Dental Exam Number (MCQ) | 100 |
Is 2nd Time available in the Dental examination?
Yes, Second-time Dental admission allows in Bangladesh. Students can apply two times in the admission test. Students who were admitted into the previous year's examination, deducting 5 numbers. If a student gets 100 Numbers, actually he/she gets 95 Numbers.
How does Dental Admission count GPA (HSC, SSC)?
SSC GPA X 15 => If you get GPA 5 in SSC your number will be (5×15)=75
HSC GPA X 25 => If you get GPA 5 in HSC your number will be (5×25)=125
The total Number from GPA is (75+125)=200.
100 Number Mark Distribution in Dental Examination
Physics => 20
Chemistry => 25
Biology => 30
General Knowledge => 10
English => 15
Total => 100 Marks
Download Dental Admission Previous Year Question Bank
Dental Question Bank is an important book to fulfill your exam preparation. You will be happy to know that bdniyog.com provides a free question bank (2001-2019) years question bank. You can download it from the below link.
Download Dental Admission Question Bank
Dental Admission Circular Download 2021-22
The circular of the 2021-22 Session is published yet. You can look at the 2021-22 circular and gain ideas about it.

Download PDF Dental Admission Test Circular 2021-22
Exclusive Collection of Admission PDF Books
How to Apply in Dental Admission 2020
It is easy to apply for MBBS Admission Test. Just follow the method below.
Go to the website https://dghs.teletalk.com.bd.
You have to pay 1000 Taka via Teletalk Sim.
Upload 300×300 pixel color photo (max size 100 KB) and 300×80 (max size 60 KB) pixel personal sign.
Fill up all information given in the form.
Dental Admission Admit Card and Result Download
Download Admit Card, Click Here
You can download the admit card from the DGHS official website. We also update the admit card download link in this post. Dental Result 2021-22 will publish after 3 days of examination. You can get all admission information on our Facebook Page and Facebook Group. Hope you will join the following page and group. Stay with us, Peace!

সকল পিডিএফ/ফাইল বিডিনিয়োগ বিভিন্ন ফেসবুক গ্রুপ ও ওয়েবসাইট থেকে সংগ্রহ করে থাকে। আমাদের প্রকাশিত কোনো ফাইলের প্রতি অভিযোগ/পরামর্শ থাকলে আমাদেরকে জানাতে পারেন। আমরা যথাযথ ব্যবস্থা নিবো। আমাদের ই-মেইল করুন এই ঠিকানায়ঃ
[email protected]