If you want to get the latest AFMC Admission Circular 2021-22, you have to read this full article. So keep reading on.
Every Year AFMC Authority publishes the circular of admission. This circular is published on its official website afmc.edu.bd. BDNiyog.Com also publishes the circular images and pdf of circular.
University admission is one of the popular examinations of newly passed HSC candidates. Every year millions of students attend this examination. It is very important for them to collect the AFMC admission circular 2021-22.
Armed Forces Medical College has different units. Students can choose the subject of their choice if they are ahead in the results ranking. University admission test is a lot like war. It is possible to win this battle if you are fully prepared. In Bangladesh, many students take part in the admission test every year. The number of seats that the candidates take part in the admission test is not the same for the students. As a result, admission test takers may not be admitted to their desired place. Many students take preparations for the second time. Again, many students are admitted to private universities.
Armed Forces Medical College Admission Circular 2021-22
University Admission is a very important examination in our country. After passing the HSC exam, students are applying for this seat. According to the decision of the authority, every year students are fighting for their desired university and also for a subject.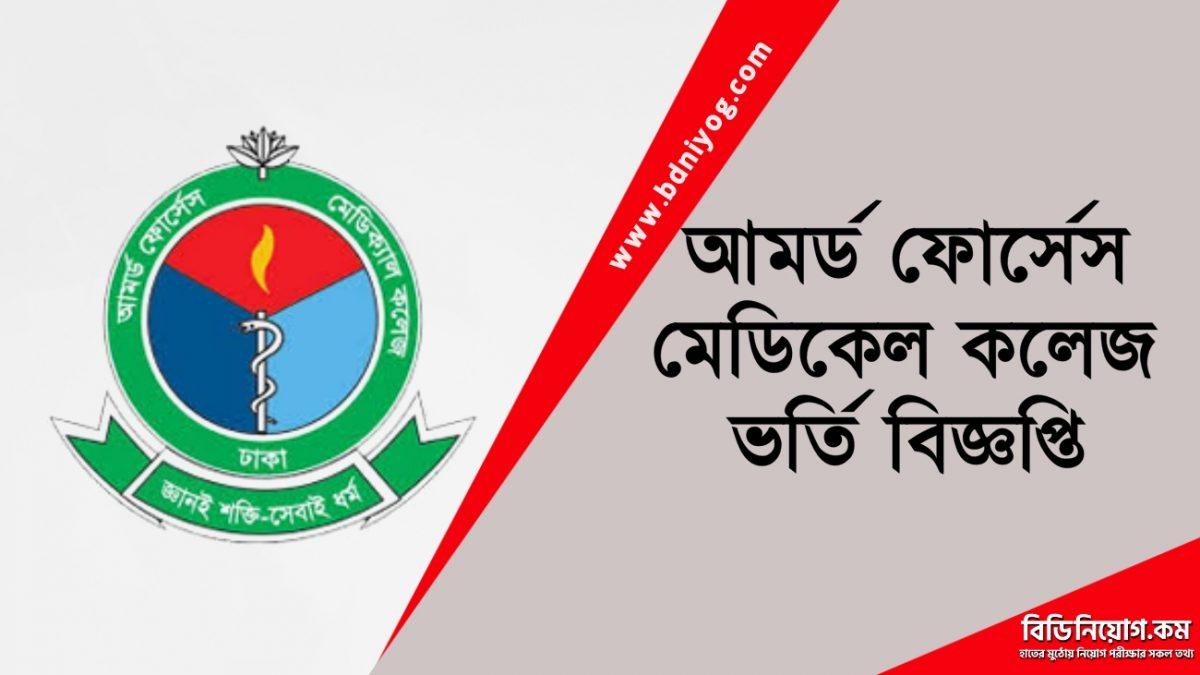 Admission Important Dates at a glance
Now, we talk about all the important information about the admission test below.
| | |
| --- | --- |
| Application Start Date | March 03, 2022 |
| Application Deadline | March 12, 2022 |
| Admit Card Collect Date | April 04, 2022 |
| Admission Test Date | April 08, 2022 |
| Admission Fee | 1000 Taka |
| Apply Website | http://afmc.teletalk.com.bd/ |
Armed Forces Medical Admission Apply Requirement
AFMC Admission Candidates have some educational requirements to apply. Otherwise, he/she cannot eligible to apply for this admission.
The applicant has to complete HSC or similar exam in 2020 or 2021,
The applicant ought to pass SSC or equivalent exam in 2018 or 2019,
Armed Forces Medical category candidates must have a total GPA of 10.00 in HSC and SSC examinations.
Army Medical category applicants must have GPA of 09.00 in both HSC and SSC examinations. However, GPA is 8.00 for the tribal quota (minimum GPA in each exam should be 3.50).
In both categories,  candidates have to get a minimum GPA of 3.50 in Biology in HSC/ equivalent examination
Armed Forces Medical College Mark Distribution
Written Test (MCQ) will be held 100 marks. Subject-based number division
Physics 30
Chemistry 30
Biology 30
English 05
General Knowledge (History and Culture of Bangladesh) 05
0.25 marks will be deducted for each wrong answer in the written test. Must have a minimum score of 40 out of 100 in the written test. Those who get less than 40 marks on the written test will be considered as fail. Only pass candidates will be included in the merit list.
Armed Forces Medical College Mark Requirement
15 X GPA obtained in SSC/ equivalent examination 75 Marks (maximum)
25 X GPA obtained in HSC / equivalent examination 125 Marks (Maximum)
The written test will be in MCQ (Multiple Choice Question) method 100 Marks
Total 300 Marks
If the examinee has participated in the medical/ dental examination before, then 5 marks will be deducted. And if the examinee is a medical/ dental student, his/ her 7.5 marks will be deducted.
Download AFMC Admission Previous Year Question Bank
AFMC Admission Question Bank is an important book to fulfill your exam preparation. You will be happy to know that bdniyog.com provides free question bank previous year question bank. You can download it from the below link.
Download AFMC Admission Question Bank
Army Medical College Admission Circular Download 2021-22
The circular of the 2021-22 Session is published. See below…

AFMC Admission Test Circular 2021-22 PDF Download
Exclusive Collection of Admission PDF Books
How to Apply in AFMC Admission 2021-22
It is easy to apply for AFMC Admission Test. Just follow the method below.
You have to go to the Armed Forces Medical College website http://afmc.teletalk.com.bd/.
There are guidelines on how to complete the admission process of all the units after visiting the website. So read the guidelines carefully.
Click on the Apply button on this website of Armed Forces Medical College to apply for admission in any unit.
After clicking on the apply button, the applicant has to give the Roll number/Reg Number of SSC and HSC exams.
Then fill in the name of the board you have passed from.
Please verify the above information very well.
And finally, Recheck and Confirm that everything is ok.
People May Search: arm force medical circular 2021, আর্ম ফোর্স মেডিকেল সার্কুলার, army medical circular.
AFMC Admission Test Admit Card Download
Admit cards are issued a few days before the exam. AFMC authorities publish the admit card on their own website. We also update the admit card download link in this post. When the admit card is published, you will get the download link here.
AFMC Admission Test Result Download
You can download the admit card from the AFMC official website. We also update the admit card download link in this post. AFMC Result 2021-22 will publish after 3-5 days of examination. You can also download it from below.
You can get all admission information on our Facebook Page and Facebook Group. Hope you will join the following page and group. Stay with us, Peace!

সকল পিডিএফ/ফাইল বিডিনিয়োগ বিভিন্ন ফেসবুক গ্রুপ ও ওয়েবসাইট থেকে সংগ্রহ করে থাকে। আমাদের প্রকাশিত কোনো ফাইলের প্রতি অভিযোগ/পরামর্শ থাকলে আমাদেরকে জানাতে পারেন। আমরা যথাযথ ব্যবস্থা নিবো। আমাদের ই-মেইল করুন এই ঠিকানায়ঃ
[email protected]